Springville Youth Basketball offers a winter program for 12U, 10U, 8U for boys and girls and 6U Coed league.
Registration for the 2023-2024 season:
September 6th, 2023 and deadline is Monday, October 30th.
Cost:
$120 per participant. 8U-12U ages typically play a 10-12 game season with an end of season tournament. Uniform provided.
Cost is $140 after the October 30th deadline.
Evaluation date:
Sunday, November 5th between 2:00-4:45 (learning league does not attend evaluations)
Uniform Fittings will be at the middle school gym from 2-5 on 11/5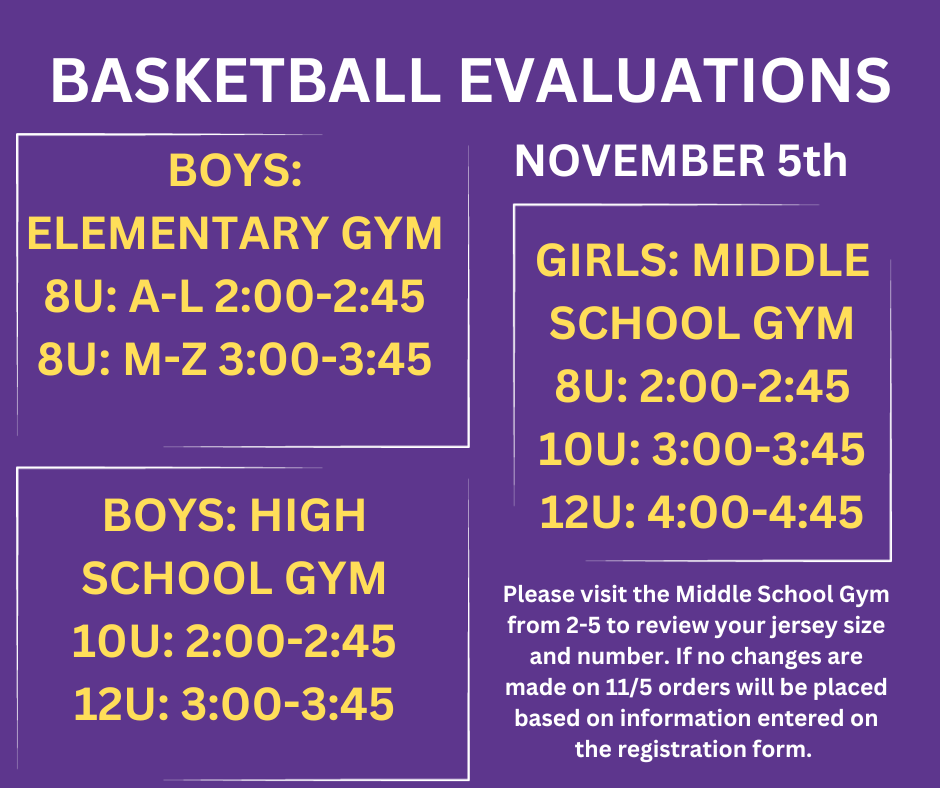 Registration age is based on the participants age as of September 1st, 2023. 6U participant must be 5 or older as of September 1st, 2023. Ex: A participant turns 9 on September 2nd, they would register for the 8U league.
6U and 8U games will be held primarily in the Elementary Gym

10U and 12U Games will be held primarily in the Middle School
All leagues except 6U typically have some travel to local cities for games such as Ashville, Odenville, Leeds
Games will be played during the weeknights and on Saturdays. Games will begin in December (No games over Holidays) and in January. End of Season Tournament is typically the lst week of January or the first week in February.
The 6U Coed league will provide some skills and drills clinics pre season in November to prepare for games in December. 6U Coed will play games on Saturdays and weeknights. Must be 5 as of September 1st, 2023.
Tiger Basketball Club
Introduced for the first time in 2022, our 3rd, 5th and 6th grade boys will have the opportunity to play in 25 travel basketball games with instruction led by our high school basketball coach and staff. Practices will be held 2 times per week in the high school gym. Uniform and warmup are included.
Cost is $350
ARPA All Stars
ARPA All Star teams to represent Springville in the ARPA post season tournament are selected from interested players by the coaches at the end of the season. ARPA requires participants to reside within the city school district and players may not reside within or attend another ARPA member school system.