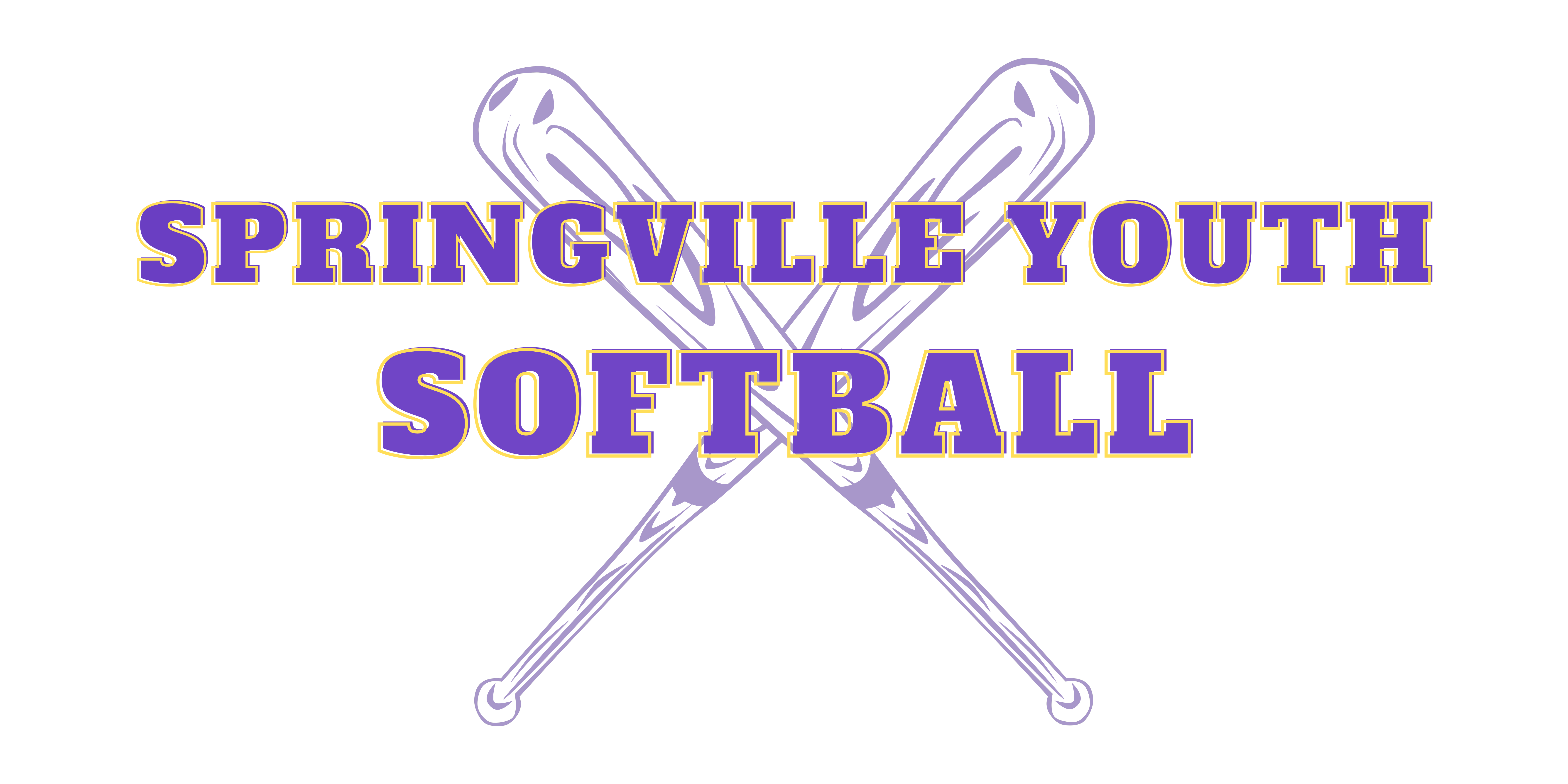 COACH SAFELY TRAINING:
This will be held on Sunday, March 12th from 2:00-4:00 at the VFW Building
It is required that ALL Coaches attend this in-person training once every two years. A refresher course is required yearly. Please visit the following link to take your refresher course. Coach Safely Refresher
We offer a Spring and Fall season.
Fall Softball Season-registration begins in July 11th - August 11th -(Games are played on Sunday afternoon in Septembers and October)
Spring Softball Season-registration begins in January - (Games are played in March, April and May)

Ages -5/6,7/8,9/10,11/12 (

Compute age as of December 31st, 2022

)
Spring Evaluations will be on 2/11/2023 on field 3 at the Springville Baseball/Softball Complex (101 Camp Road)

Registration Fee - $175

(jersey, socks & pants included)
Games will be played on some weeknights (No Wednesday games).

Player eye black photo banners can be purchased at registration.

Head Coaches can apply now on our website.

Springville Youth Softball is sanctioned by USA Softball of Alabama
Rec Tournaments for 2023

To be announced!

Cost $175
OPENING DAY- March 13, 2023
Springville Softball Club
EVALUATIONS:
Saturday: Feb. 2/11
Baseball Evaluation Times:
League: Time: Field:
8U 10:00 AM F1
6U 12:00 PM F1
10U 10:00 AM F2
12U 12:00 PM F2
Softball Evaluation Times:
League: Time: Field:
6U 10:00 AM F3
8U 12:00 PM F3
10U 1:00 PM F3
12U 2:00 PM F3
Uniform Fitting:
ALL Leagues (Cap/6U/8U/10U/12U/14U) BOTH SPORTS will have the opportunity to be fit for a uniform from 10:30 AM-2:30 PM at the Baseball Concession Stand.
Inclement Weather:
In the event of inclement weather, we will adjust these times accordingly, or reschedule if needed.
Notes:
Teams will be drafted immediately following their individual evaluation time.
HEAD COACHES: Cap Ball draft will be held at 9 AM at the VFW Building
Softball Board Members:
Lyndsey Deweese | Jeremy Colegrove | Chris Glenn | Ronnie Howard
Springville Youth Softball offers a Spring and Fall season for ages 4-12.

To register go to springvilleparksandrec.com select account/register and set up an account, then register.
You can register in person any weekday from 8-4 in our parks and rec. office behind Walmart in the sports complex.
Springville Youth Softball is sanctioned by USA Softball of Alabama


The City of Springville offers a 10% need-based discount for all sport registrations. To receive the discount, please email a copy of one of the following forms below to jlansdale@cityofspringville.com along with what sport you are registering for. The submitted form will be retained on file for 1 year.
Letter from child's school showing qualification for free/reduced lunch
Medicaid/Medicare ID
Supplemental Security Income
Food Stamps Eligibility
Alabama Family Assistance (TANF)
Proof of income of every adult in the home (equal or less to 150% poverty rate)