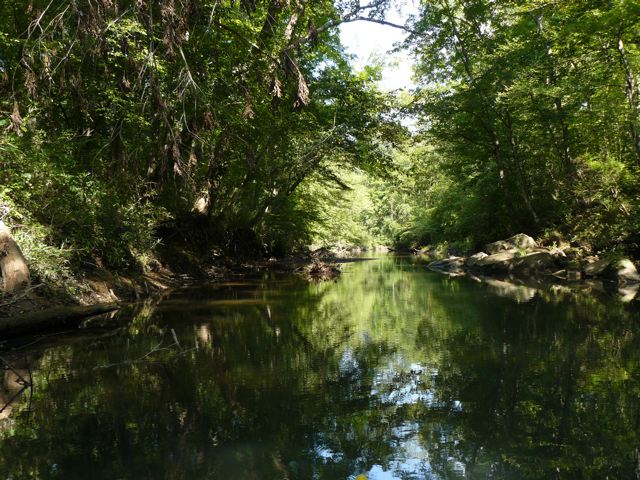 To sign up for volunteer opportunities at the Preserve - Click Here
"The Big Canoe Creek Nature Preserve, a Forever Wild property is comprised of approximately 422 acres in Springville, AL, near Homestead Hollow off of Murphree's Valley Rd. otherwise known as County Road 9. This property was first nominated to the Forever Wild program in 2009 by The Friends of Big Canoe Creek, a 501c(3) Non-Profit grassroots group formed to preserve and protect the Big Canoe Creek watershed. It did not become a Forever Wild property until July of 2018.
The property encompasses hilly, forested terrain and aquatic and riparian habitat in and near Big Canoe Creek, including the drainage of a significant tributary into the creek. The northern border of the Preserve stretches for about a total of +/- 5,667 feet, roughly a mile and some of the Northwestern corner spans both sides of Big Canoe Creek. The Creek's riparian buffer remains intact, providing abundant creek-side scenery and wildlife habitat..High points on the property afford views of the uppermost section of the Big Canoe Creek watershed, including beautiful rural Canoe Creek Valley and the opposing ridges of Pine and Blount Mountains.
The Big Canoe Creek watershed is a jewel in the crown of Alabama's biodiversity. The high quality of the Creek's aquatic and riparian habitats is due to several factors. About 80% of the main stem remains free-flowing through its 50+ mile length, as do all four of its major tributaries. Both the main stem and tributaries throughout the watershed retain much of their forest cover, helping maintain critical natural water temperatures. And to a significant degree, the watershed's high quality is attributable to its drainage area remaining essentially rural and agricultural in character and land use.
The creek itself is home to more than 50 species of fish, including a rarity, the Trispot Darter, discovered in 2008 in Little Canoe Creek – a species that used to occur in Alabama but had not been observed in nearly 50 years. It is now listed by the U.S. Fish and Wildlife under the Endangered Species Act.
Mussel's are in great supply in Big Canoe Creek and the creek has retained most of its mussel species. They are most endangered because of their requirement for extremely high water quality, mussels are one of the most imperiled animal groups in North America, and their presence in the Big Canoe Creek watershed is a testament to its ecological integrity.. Big Canoe Creek has eight federally listed freshwater mussel species and an 18 mile stretch of its main stem was designated in 2004 as a "critical habitat" under the Endangered Species Act. A distinct new species, The Canoe Creek Clubshell (Pleurobema Athearni), only found in Big Canoe Creek has been discovered in one of its tributaries."