What's Happening?
The BCC Nature Preserve is in the process of getting ready to open for guests. Two trails are in the building stage and the entrance road/parking area is still under construction. We hope to have these two new trails completed in early October and entrance road/parking area completed early 2023. Once we complete the trails, road and parking we will have a grand opening ceremony and update the community. If you have any questions please contact the Nature Preserve Manager: Doug Morrison email: dmorrison@cityofspringville.com at 205-452-4538.




MEET OUR NATURE PRESERVE MANAGER

Greetings Nature Lovers,

I am Doug Morrison your Big Canoe Creek Nature Preserve Manager. The City of Springville hired me to this position, and I began July 1, 2022. I wanted to give folks who don't know me a bit of background about myself, why I care so much about this Preserve and the special place it resides in this wonderful City of Springville.

I was a Senior Systems Analyst for the past 27 years before taking this job. My wife, Joannie, daughter Betsy and son Tony moved to Springville in April 1999 on 5 acres along the banks of Big Canoe Creek. I fell in love with the creek, paddling, fishing, and exploring this jewel. It opened a whole new world. I became President of The Friends of Big Canoe Creek, in 2008 and remained President until 2020. While serving as Board President I was able to network with other groups, Alabama Rivers Alliance, U.S. Fish & Wildlife Service, The Nature Conservancy, Black Warrior Riverkeeper, Geologic Survey of Alabama, Center of Biological Diversity, and other conservation groups. In 2010 when the Coosa Riverkeeper formed, I was asked to serve and have been on that board ever since.

All of these groups and organizations helped me learn more about the Big Canoe Creek Watershed and all the special inhabitants of the creek. I learned about the Trispot Darter, Etheostoma trisella:


This little jewel had not been seen in over 50 years until it was rediscovered in October of 2008 in Little Canoe Creek. Today, the Trispot is only found in the Conasauga in northern Georgia and the Big Canoe Creek watershed here in Alabama. Scientists speculate the reason for decline in distribution is due to human impact and land development. Silt in water affects egg survival and correct water temperature is vital for the species breeding: Trispot darter - Wikipedia. This species is listed as Endangered.
Another special creature in the Big Canoe Creek watershed is the Canoe Creek Clubshell, Pleurobema Athearni.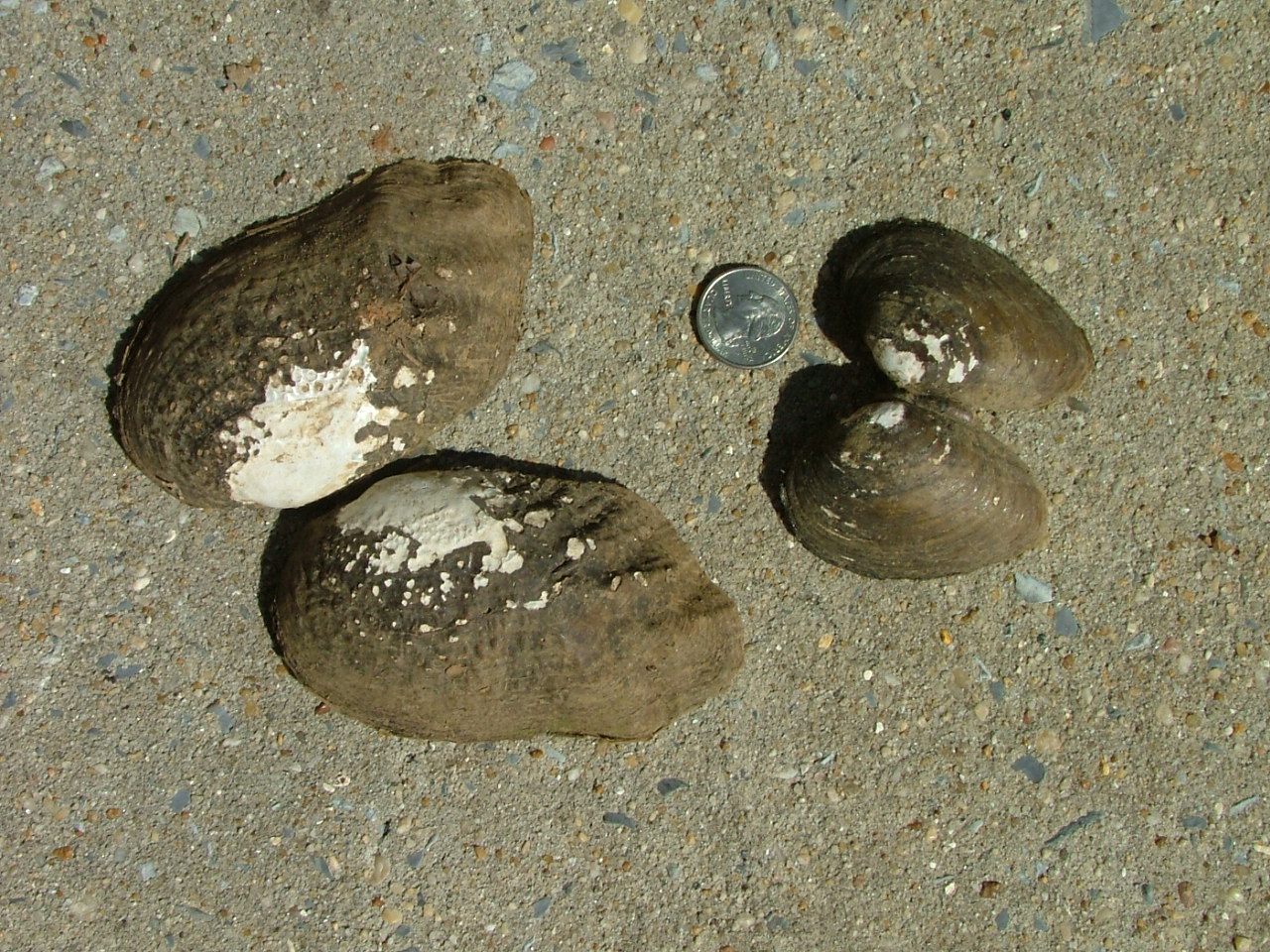 This special mussel is endemic to the United States and is only found in Alabama in the Big Canoe Creek Watershed. It was listed as Endangered just last week, July 6, 2022: Rare Alabama mussel listed as endangered species - al.com. I was one of the 61 individuals and groups who provided comments as a declarant to the U.S. Fish & Wildlife Service through the Center of Biological Diversity and as a board member through Coosa Riverkeeper because this species will go extinct if we don't do better protecting our tributaries.
See below a little illustration on the Mussel life cycle: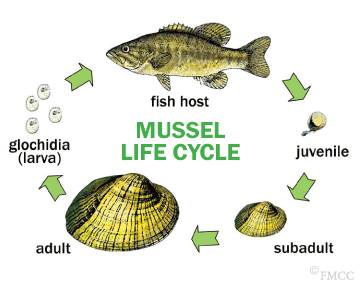 This fascinates me. Yea, I'm that guy !
Here is a video example, check this out, (1590) Natural Fish Lure | Lampsilis Mussel and Bass - YouTube
I love the City of Springville and Big Canoe Creek and have volunteered my time for the past 14 years advocating for clean water, promoting the Big Canoe Creek Nature Preserve, served on the City's Park and Rec Board and recently the Planning and Zoning Committee. I hope to spread the word about what a very, very special place we have in our back yard and hope the Big Canoe Creek Nature Preserve, a Forever Wild property, can be a springboard for conservation and environmental education as well as a place to recreate on trails and just get in touch with God's beautiful creations.
We're in the process of mapping new trails, promoting the Preserve, working with the County on the Entrance Road and Parking area and with Macknally Land Design for the entrance gate and sign design. Stay tuned and we will provide updates as they come.
There is also a new non-profit that I chair, the Big Canoe Creek Preserve Partners, which we hope will attract corporate sponsors and individuals to help the City of Springville support this Preserve. Our Mission is to promote the conservation and preservation of the Big Canoe Creek Nature Preserve in Springville, a Forever Wild property, through outreach, awareness and education while supporting recreational uses that promote health and wellness. A website for this new 501c (3) is in development and will be, http://bigcanoecreekpreserve.org/
Check out this article from Discover, the Essence of St. Clair for more background of the Preserve:BIG CANOE CREEKNature Preserve – Discover St. Clair (discoverstclair.com)

For the Love of Nature,
Doug Morrison
Big Canoe Creek Nature Preserve, Manager
email: dmorrison@cityofspringville.com or 205-452-4538.


Rare Alabama Mussel Now Federally Protected as Endangered, along with Critical Habitat
An Alabama mussel on the brink of extinction now has federal protections, along with critical habitat protections. After reviewing the best available science, including feedback from peers, scientific experts and the public, the U.S. Fish and Wildlife Service has listed the Canoe Creek clubshell as endangered under the Endangered Species Act. The Service has also designated critical habitat for the mussel, which will help improve water quality for a creek that is used by people and inhabited by more than 90 aquatic species, many of which are also imperiled.
"Big Canoe Creek is already home to ten federally listed aquatic species, and a focal point for aquatic habitat restoration and conservation," said Leopoldo Miranda-Castro, Service Regional Director. "Endangered Species Act protections for the Canoe Creek clubshell will inspire diverse partnerships that will not only protect a freshwater mussel on the verge of extinction, but a watershed that supports local communities and countless other wildlife."
The Canoe Creek clubshell, found only in the Big Canoe Creek watershed and nowhere else in the world, needs clean, flowing water to survive. Sedimentation, poor water quality, and events exacerbated by climate change, such as more frequent and intense droughts and floods, have combined to devastate Canoe Creek clubshell populations, as well as other freshwater mussels and aquatic species. During a 2017 and 2018 survey, only 25 individuals were found in the entire Big Canoe Creek watershed. Of the individuals found, all were older adults, indicating a stagnant or declining population growth.
While a stretch of unsuitable habitat divides the Canoe Creek clubshell's range, this final rule will strengthen our collaboration with partners who are already working to conserve the mussel and the Big Canoe Creek watershed, comprehensively. This watershed is considered a priority watershed by the Alabama Rivers and Streams Network, based on the abundance of other imperiled mussels, crustaceans and aquatic species.
Partnerships between government agencies, non-governmental organizations and private landowners have been hard at work to conserve this watershed and the species that call it home. For example, the Partners for Fish and Wildlife Program and Alabama Department of Conservation and Natural Resources have implemented collaborative monitoring efforts for species within the Big Canoe Creek watershed.
The Service has designated 36.3 miles of river across two units as critical habitat for the Canoe Creek clubshell. Unit One, the eastern portion, includes Little Canoe Creek (East), and Unit Two, the western portion, includes Big Canoe Creek/Little Canoe Creek (West). Both units are occupied by the species.
Establishing critical habitat will raise awareness of the needs of the Canoe Creek clubshell and other imperiled species and focus the efforts of our conservation partners. It also alerts federal agencies that they are required to make special conservation efforts when they work, fund, or permit activities in those areas. The designation will have no impact on private landowners taking actions on their land that do not require federal funding or permits.
Highly sensitive to pollution, native mussels are indicators of healthy streams and rivers on which both wildlife and people depend. Mussels also clean water as they feed, filtering sediment and pollutants in the process.North America has the highest diversity of freshwater mussels in the world, with about a third of the world's 900 species found here. Despite our high diversity of mussels, sixty-five percent of them are imperiled. The growing impacts of climate change are anticipated to further exacerbate threats to freshwater mussels, aquatic species and their habitats.
Stemming the ongoing extinction crisis is a central component of the Biden-Harris administration's bold conservation initiative: America the Beautiful. The initiative is focused on supporting locally led and voluntary efforts to conserve, connect and restore 30 percent of lands and waters in the U.S. by 2030, while enhancing wildlife habitat and improving biodiversity.The complete listing proposal can be obtained by visiting the Federal eRulemaking Portal: regulations.gov at Docket Number FWS–R4–ES–2020–0078. Final critical habitat coordinates can be found on our website at: https://www.fws.gov/office/alabama-ecological-services/library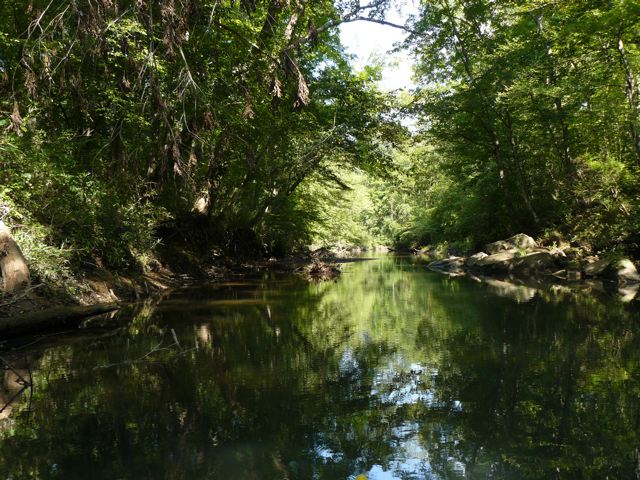 To sign up for volunteer opportunities at the Preserve - Click Here
"The Big Canoe Creek Nature Preserve, a Forever Wild property is comprised of approximately 422 acres in Springville, AL, near Homestead Hollow off of Murphree's Valley Rd. otherwise known as County Road 9. This property was first nominated to the Forever Wild program in 2009 by The Friends of Big Canoe Creek, a 501c(3) Non-Profit grassroots group formed to preserve and protect the Big Canoe Creek watershed. It did not become a Forever Wild property until July of 2018.
The property encompasses hilly, forested terrain and aquatic and riparian habitat in and near Big Canoe Creek, including the drainage of a significant tributary into the creek. The northern border of the Preserve stretches for about a total of +/- 5,667 feet, roughly a mile and some of the Northwestern corner spans both sides of Big Canoe Creek. The Creek's riparian buffer remains intact, providing abundant creek-side scenery and wildlife habitat..High points on the property afford views of the uppermost section of the Big Canoe Creek watershed, including beautiful rural Canoe Creek Valley and the opposing ridges of Pine and Blount Mountains.
The Big Canoe Creek watershed is a jewel in the crown of Alabama's biodiversity. The high quality of the Creek's aquatic and riparian habitats is due to several factors. About 80% of the main stem remains free-flowing through its 50+ mile length, as do all four of its major tributaries. Both the main stem and tributaries throughout the watershed retain much of their forest cover, helping maintain critical natural water temperatures. And to a significant degree, the watershed's high quality is attributable to its drainage area remaining essentially rural and agricultural in character and land use.
The creek itself is home to more than 50 species of fish, including a rarity, the Trispot Darter, discovered in 2008 in Little Canoe Creek – a species that used to occur in Alabama but had not been observed in nearly 50 years. It is now listed by the U.S. Fish and Wildlife under the Endangered Species Act.
Mussel's are in great supply in Big Canoe Creek and the creek has retained most of its mussel species. They are most endangered because of their requirement for extremely high water quality, mussels are one of the most imperiled animal groups in North America, and their presence in the Big Canoe Creek watershed is a testament to its ecological integrity.. Big Canoe Creek has eight federally listed freshwater mussel species and an 18 mile stretch of its main stem was designated in 2004 as a "critical habitat" under the Endangered Species Act. A distinct new species, The Canoe Creek Clubshell (Pleurobema Athearni), only found in Big Canoe Creek has been discovered in one of its tributaries."